Aardvark Firefox Addin for Firefox 14 (and previous)
Warning, JavaScript is disabled!
JavaScript is not available, maybe because you disabled it globally into your browser settings or you are using an addon like NoScript.
We do not have any dangerous JavaScript running here.
Please enable JavaScript; if you're using NoScript this image will help you adding CoolSoft to your whitelist.
Thanks for your comprehension and enjoy CoolSoft.
Submitted by

coolsoft

on July 30, 2012 - 09:36
As a long time Aardwark user, now that Firefox 14 is out I'm still missing an official version that works with it.
Well, the original Aardvark 3.0 works perfectly in latest Firefox version, but it can't be installed because its manifest (a file inside the addin that says FF which versions that addin is compatible with) reports FF 3.6.* as max version.
Editing this info is not so difficult, but some inexperienced users can't do it.
Here you are, you can download an already patched version Aardvark, working on Firefox 3.0 --> 14.0.
The only change I made, as said, is to allow it to be installed in Firefox versions to 14.0 (included) and nothing else.
NOTE: addon should install automatically when clicking the link above.
If it doesn't:
Download the .xpi file to a local folder on your computer
Open Firefox, click on the top-left orange Firefox button, then choose add-ons
Click on the button next to the up-right search box (with a gear image)
Choose install addon from file and select the previously downloaded .xpi file
Download
aardvark_3.0_ff14.xpi
Release date
2012-Jul-30
SHA1
18947a47ccc97e78d02039887a9c2d02e535c063
Size
28,910 bytes
MD5
28b8e52b3267ed92602e666435488ae8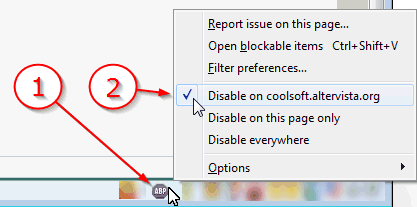 Warning, advertise blocker detected!
Advertising images can't be shown, probably due to an advertisement blocker plugin installed into your browser (like Adblock Plus for Firefox or Simple Adblock for Internet Explorer) and/or JavaScript disabled.
CoolSoft is supported by donations and a few (and non-intrusive) banners.
Please disable ad blocking for this website and enable JavaScript. If you're using Adblock for Firefox, this image will help you adding CoolSoft to your whitelist.
Thanks for your comprehension and enjoy CoolSoft.
Close