Add new comment
Warning, JavaScript is disabled!
JavaScript is not available, maybe because you disabled it globally into your browser settings or you are using an addon like NoScript.
We do not have any dangerous JavaScript running here.
Please enable JavaScript; if you're using NoScript this image will help you adding CoolSoft to your whitelist.
Thanks for your comprehension and enjoy CoolSoft.
Submitted by

coolsoft

on October 15, 2009 - 23:19
EDIT (17/10/2009): aggiornati gli script per gestire l'eject automatico del supporto.
Qualche tempo fa ho acquistato un Hantech Markus 750, un "mediarecorder" clone del più famoso Ellion HMR-351H e del Medley 2+.
Questo mediarecorder riproduce egregiamente contenuti multimediali da chiavette USB, dall'Hard Disk interno, dalla LAN (cablata o wireless) o dal Digitale Terrestre incorporato. In tanta modernità ci si è però dimenticati dei "vecchi" e cari CD/DVD che, per essere letti, devono essere trasferiti prima sull'HDD interno tramite un PC via USB o LAN.
L'HMR monta una cpu RISC e un kernel Linux 2.6.12 opportunamente compilato per questo processore. Il kernel, purtroppo, non include il supporto per i cdrom/dvd (anche USB) e per i filesystem correlati.
Collegando il lettore DVD via USB ed osservando il syslog via telnet si nota che la connessione della periferica viene rilevata ma nulla di più: il device /dev/cdrom non viene creato. Ho quindi preparato una toolchain per ricompilare il kernel e, soprattutto, compilare i moduli necessari e mancanti per aggiungere il supporto mancante ai lettori DVD USB.
Allegato a questo post trovate l'archivio con tutti i file necessari; vediamo come usarlo.
Estraiamone (ad esempio via Samba) il contenuto in una cartella dedicata sull'hard disk, ad esempio /usr/local/etc/hdd/volumes/HDD1/linux, quindi entriamoci via telnet:
$ cd /usr/local/etc/hdd/volumes/HDD1/linux
rendiamo eseguibili i due script per montare e smontare i supporti ottici
$ chmod +x *.sh
Colleghiamo il lettore via USB all'HMR, quindi lanciamo lo script di mount:
$ ./mount-cdrom.sh
Da questo momento il contenuto del supporto ottico sarà accessibile tramite i menu grafici del mediarecorder nella sezione accessibile con il tasto HDD.
Per rimuovere il DVD lanciare il seguente comando che provvede a scaricare i moduli del kernel, rimuovere il mount ed espellere il supporto con il comando eject (che stranamente è già presente in /usr/bin anche se i DVD non erano supportati...):
$ ./umount-cdrom.sh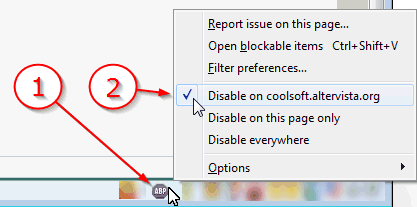 Warning, advertise blocker detected!
Advertising images can't be shown, probably due to an advertisement blocker plugin installed into your browser (like Adblock Plus for Firefox or Simple Adblock for Internet Explorer) and/or JavaScript disabled.
CoolSoft is supported by donations and a few (and non-intrusive) banners.
Please disable ad blocking for this website and enable JavaScript. If you're using Adblock for Firefox, this image will help you adding CoolSoft to your whitelist.
Thanks for your comprehension and enjoy CoolSoft.
Close