H264/AVC Level Editor
Warning, JavaScript is disabled!
JavaScript is not available, maybe because you disabled it globally into your browser settings or you are using an addon like NoScript.
We do not have any dangerous JavaScript running here.
Please enable JavaScript; if you're using NoScript this image will help you adding CoolSoft to your whitelist.
Thanks for your comprehension and enjoy CoolSoft.
H264LevelEditor is a free and small tool to edit an H264/AVC encoded video stream and change IDC profile level (see here for detailed info about IDC levels).
Works both on MKV containers and raw H264 streams (*.h264, *.264, *.ts or any other file containing H264 encoded video).
It's a portable software, no need to install it.
Quick intro
Video stream/file is edited in-place, which means:
fast editing
no need to reencode the file (save time)
no need to demux, edit and remux streams (save time and HDD space)
To make a long story short, some mediaplayers (like my Samsung C6000 LED TV and Sony PS3) search the video file being played for an header info named AVC profile level; if this level is greater than the requested (supported) one they simply refuse to play it, even if they could.
BluRay specifications requires level 4.1, which is supported by all actual HD mediaplayers. Many of the video files you'll find on internet were encoded with an unnecessary high level, like 5.1.
The right way to change AVC level is to reencode the file; this is really time consuming, even if you have a recent CPU.
A quick way is to change some bytes inside the file and make it appear as being encoded with a different level; if you're lucky, changing that 5.1 to 4.1 will make the file playable on your mediaplayer.
Just to be clear: H264LevelEditor does not change video stream compression.
It only changes a value in file header, where it "declares" its level to the world.
Many of the 5.1 encoded files out there are not really 5.1, but over-leveled 4.0 or 4.1.
If the file itself is encoded using 5.1-only features, and your player is not able to decode it, well... you must reencode it, no way.
Usage help
Using H264LevelEditor is easy as 1-2-3:
select the video file to edit by pressing then tree-dots button, or drag&drop the file directly from Windows Explorer
H264LevelEditor will show actual AVC level into the "h264 level" box, choose the new level you want to set
press "Change level" button
click on "Donate" button (well, this is obviously optional ;) )
Version history
v.1.2.0 - 2012-01-24
NEW: Search limit can now be extended up to first 100MB of the file (default is 1MB). This adds better support for MP4 files.
NEW: initial (and really experimental) support for H264 encoded AVI files. Please remember that AVI is not a good container for H264/AVC stream.
NEW: added automatic software update checking feature, can be set into Options dialog
FIX: fixed search algorithm to avoid @n.k profiles detection
please see comments here for further details:
http://coolsoft.altervista.org/comment/363#comment-363
v.1.1.0 - 2011-08-05
NEW: backup feature, allows to undo any changes to input file
NEW: improved search algorithm, now changes the muxing tag too
NEW: fix to recognize mislabeled profiles, such the ones produced with very old encoders
Download
H264LevelEditor it's a portable software (single EXE), no need to install it.
WARNING: .NET Framework 2.0 or newer is required: 2.0 (x86) - 2.0 (x64) - 4.0 (client profile)
(Windows Vista comes with .NET Framework 3.0 preinstalled, Windows 7 comes with .NET Framework 3.5 preinstalled.)
H264LevelEditor_1.2.0.zip
Release date
2012-Jan-24
SHA1
11a9cff14e720b19db6ad71ae89f0ec29415b8a1
Size
210,276 bytes
MD5
b9a17f43f5e2518f7e7e076575d5feed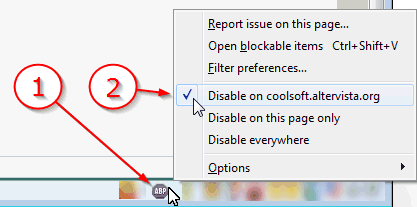 Warning, advertise blocker detected!
Advertising images can't be shown, probably due to an advertisement blocker plugin installed into your browser (like Adblock Plus for Firefox or Simple Adblock for Internet Explorer) and/or JavaScript disabled.
CoolSoft is supported by donations and a few (and non-intrusive) banners.
Please disable ad blocking for this website and enable JavaScript. If you're using Adblock for Firefox, this image will help you adding CoolSoft to your whitelist.
Thanks for your comprehension and enjoy CoolSoft.
Close